Wednesday, December 14, 2022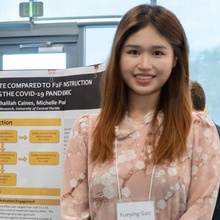 NRC staff member Sherry Gao presented at the 2022 American Evaluation Association (AEA) conference on Friday, November 11, 2022. The presentation covered a meta-analysis regarding how the COVID-19 pandemic had impacted students' learning motivation and academic achievement, with school closures and a shift from face-to-face learning to remote learning.
This study revealed how public health issues are potentially related to school education and psychological issues. The presentation was part of the Quantitative Methodology session.
See a PDF of her poster here.